Tricks to Make Your Home Feel More Spacious
Sadly, many of us do not live in a large enough house, flat or studio and often the rooms feel cramped and cluttered. Many tenants move into accommodation that looks tired, depressing and unwelcoming. House buyers too, often make compromises when they buy a new home, knowing that they will not be able to make any costly adjustments for some time.
Perhaps before you consider getting your estate agent to put the house on the market for sale, you could look at maximising what you already have. Plus, if you decide that you still want to move, a streamlined, uncluttered home is much preferred by potential viewers so it's well worth taking the time to sort things out!
Luckily there are some clever tricks that can really make the difference to the look of your rooms and will boost your spirits too that will make your new room look terrific, but not make a huge dent in your bank balance.
Use Colour to Create a Roomy Feeling
If you are planning to decorate a small room, think light, bright and airy. Light colours can really open up the room and can make it feel much larger, whilst darker colours can look cosy but definitely have the opposite effect and make a room seem smaller.
Use a light colour on the walls and floor. White is a good choice, but it need not be the harsh surgical shade of white, there are many softer options to use including creams, oatmeal and magnolia. If you want to add some contrasting colour, different tones of pale blues and greys look good or you can opt for the classic contrast of black and white. Interest can be added by using different textures in your room rather than colours.
If you want to hang wallpaper, you must choose carefully as patterned wallpaper can make a room look smaller. If you just have to have the paper you have found, one statement wall is a good compromise!
Dark, heavy curtains need to be packed away! Don't replace them at all if you are not overlooked so that the room enjoys maximum light. If you do need curtains, buy some pale linen curtains – preferably in the same shade as your walls. If you are on a tight budget, take a look in your local charity shops as they often have numerous pairs of curtains. A clever trick to give the impression of space, is to hang the curtains from a rail just below the ceiling right down to the floor. Alternatively, Roman blinds at a window take up little space and look sophisticated.
Having lots of different colours in a small space, can make things look chaotic so better to stick with one pale colour and introduce different tones of the same colour for rugs, cushions and throws.
If you have furniture that you would like to give a fresh new look, again, think light and bright. Light coloured woods work well and so do pastel colours and dark chests and tables are totally transformed by a lick of paint.
Define Different Areas in Your Room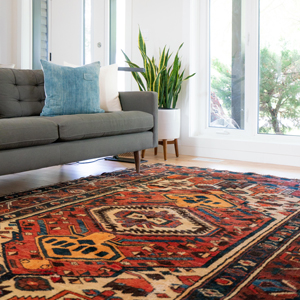 If you have an open plan living area or studio, it is a good idea to define the different areas such as lounge and dining areas. This can be done using rugs. The rugs should not be huge, only large enough to cover the floor in that area. The rugs need not be identical but similar light shades work well and if you find a larger rug, the dining table (round tables work better) can stand on the rug which will look good. Charity shops are again good hunting grounds for both rugs and furniture.
Another good trick to create a feeling of space, is to make sure that there is a defined walkway through the room that is clear of furniture. In reality, this may mean that you will need to move your table so it stands to one side, but it will definitely mean that you can move around more easily.
Use Furniture Cleverly
The main challenge is to create a clutter free home as this will instantly make the rooms feel larger – the trouble is where to put the clutter!
Create some clever storage solutions that will help you 'clear the decks'. Have a good look at your furniture as large chunky pieces take up valuable floor space and it might well be worth swapping them for more streamlined pieces.
Invest in a trunk for a coffee table as this will give you storage space too or if not, fit a set of attractive wicker baskets under your existing table.
If you need some bookshelves, but have not got much room, why not hang them above the window or doorway? If you have not got a headboard, a tall bookcase works well and provides room for all your books.
Use the valuable space under your bed for storage. Plastic or wooden under bed boxes on casters are widely available in DIY stores and are perfect for storing bed linen and 'out of season' clothes.
It is important to have as much floor area as possible, so why not hang your television on the wall? This will give you room to have a chest underneath. Likewise a bookshelf can be hung on the wall with room underneath for some smart storage boxes.
In a small room, one large sofa looks more streamlined than several different chairs. A well-known trick used by interior designers is to leave a little distance between such pieces of furniture and the wall as this stops the room looking crowded.
Clever Bed Solutions
Beds do take up a great deal of room. If they are not going to appear too large, it is best to use white or light coloured linen with some toning accessories. If space really is tricky, why not consider a loft bed? They are available in both single and double size and are very practical as most have a wardrobe, desk area or folding bed underneath.
Good quality sofa beds offer a practical solution too, but if you are planning to sleep on it every night, check that the mattress is good quality and really comfortable.
Adjust the Lighting
Strong overhead lights can be really harsh especially in a confined area. Fitting a pendant lamp works well as does fitting some wall lamps or having a couple of table lamps as these all create pools of light.
Add an Illusion!
Really large mirrors can work wonders to make a room feel more spacious. The mirror can be hung on the wall opposite the window so that it reflects all the light from outside or it can be put on the wall that is right angles to the wall with the window. The mirror can be placed behind a large chest as it will still create the illusion that there is more room beyond the chest!
As well as using mirrors, glass topped tables also have a simple effect on making a room look larger.
Keep It Simple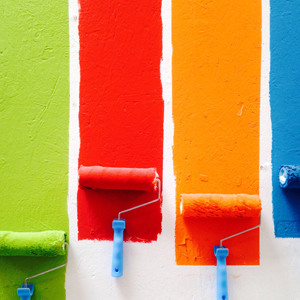 Less is definitely more in a small space and this is very true where ornaments and decorations are concerned as it is very easy to make the room look cluttered. Experts recommend a few large ornaments are used in preference to lots of smaller ones and the same goes for wall paintings. Choose one large piece of art for the room rather than a group of paintings which will make it look smaller.
Remember that the painting is likely to become the focal point so think carefully about its colours – studies of water and natural scenes work well and so do abstracts with stronger coloured accents will look dramatic and the accents can be echoed with a throw, cushions and tissue box.
If you have a bookcase, colour blocking the book spines can bring uniformity as many different colours can look chaotic in a small space. Interestingly, a couple of medium sized houseplants such as ferns, can add a luxurious feeling to your room as well as giving a light airy feeling and these can look good on a shelf or coffee table.
Create a Clever Hidden Office!
If you would dearly like an office but simply don't seem to have the space for one, do you have a large cupboard that you could empty or is there space under the stairs?
Both are unusual but workable places to have your office and can be made more practical with the addition of some shelving and good lighting.
Tackling the Kitchen and the Bathroom
The key word with both of these busy rooms is 'streamline'. Neither should be cluttered but often there is not enough storage space.
In the kitchen, clear all the work surfaces of everything except the kettle and a utensils rack. If your larder is cluttered and you cannot find things, have a good tidy out and invest in some adjustable tiered plastic shelves so that jars and bottles can be easily seen. Most DIY shops have different sized plastic baskets that can be hung under shelves to create more space. Put the space on the inside of your broom cupboard or larder to good use and hang the ironing board there or some storage baskets.
Making the bathroom look good is always a challenge! If you need storage space, why not invest in a cupboard that fits around the pedestal of the basin? To introduce light and a feeling of space, ditch the coloured shower curtain and plump for a transparent one. Colour coordinate towels, flannels and toiletries for a less cluttered look. Keep windowsills clear of clutter too.
Living in limited space certainly has its challenges, but hopefully the ideas here will have given you plenty of inspiration on how to create a stylish practical home that will be the perfect retreat for you and your family at the end of the day and it saves all of the cost and hassle of moving home.