How to Sell Your House at Auction
Let buyers fight it out at auction and drive up the price of your property…
Benefits of Selling at Auction
If you're looking for a quick house sale and a secure buyer that won't be able to pull out of the sale, then selling your house at auction might be a good choice.
Once the hammer falls the buyer has to put down a 10% deposit and they have a month to pay the remaining 90%.
When multiple buyers are interested in your property the price can quickly skyrocket. Emotions tend to take over as buyers are desperate not to miss out on the chance to purchase your property.
The auction room can be great if you're finding it difficult to find buyers through traditional routes, such as estate agents.
Buyers at auction are often looking for a project or run-down property that they can purchase as a "doer upper".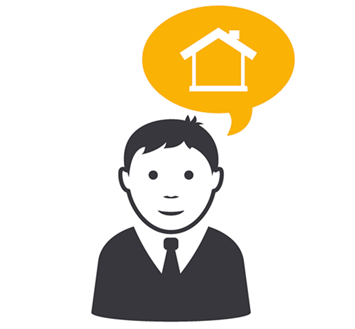 Frequently Asked Questions
Homeowners should expect to pay the auctioneer in the region of 2.5% of the sale price.
Although, even if your property doesn't sell, you will still be liable for some auctioneers fees and you will need to consider other costs such as advertising and solicitors fees.
Some auction houses specialise in certain types of property and you could do some research into which auctioneers have sold similar properties to the one you're selling.
Speed Property Buyers would recommend that you decide on an auctioneer local to the property.
It depends on the contract, but between 14-28 days after auction is usual – assuming the property sells. Check here what to do if the property doesn't sell.
Selling at Auction Advice
When selling at auction you should always look at your property and ask is it suitable for the auction process? Would you achieve more on the open market or through a property buying company?.
Property auctions are ruthless, so we suggest visiting a few to observe before you get involved in the bidding process. We also strongly suggest taking someone along with you with who is experienced in the property auction field.
Houses at auction mostly fall into the following categories:
Properties suffering from overwhelming problems (such as structural issues)
Moving due to job relocation
Inheritance of property
Selling houses at auction isn't for everyone and you might be able to locate a higher sale price elsewhere via other selling methods.
We Buy Any House, Any Condition
Speak to a member of our team and find out how we can help you sell your house quickly.
"*" indicates required fields
The UK Property Auction Process and Choosing an Auctioneer
When you're going to sell at auction you will have to choose a suitable auctioneer, there are a large number of auction houses across the UK.
Some specialise in purely auctions, while others can be the auctioneering department of an estate agent.
Every auction house has their own set fee's and processes, so take a good look at the small print before committing to a specific auction house. We suggest putting aside a budget of about 2.5% of your homes sale price as the costs to cover the auction fees.
There are some cases where you might be liable for advertising and legal costs upfront, so make sure you have funds available immediately.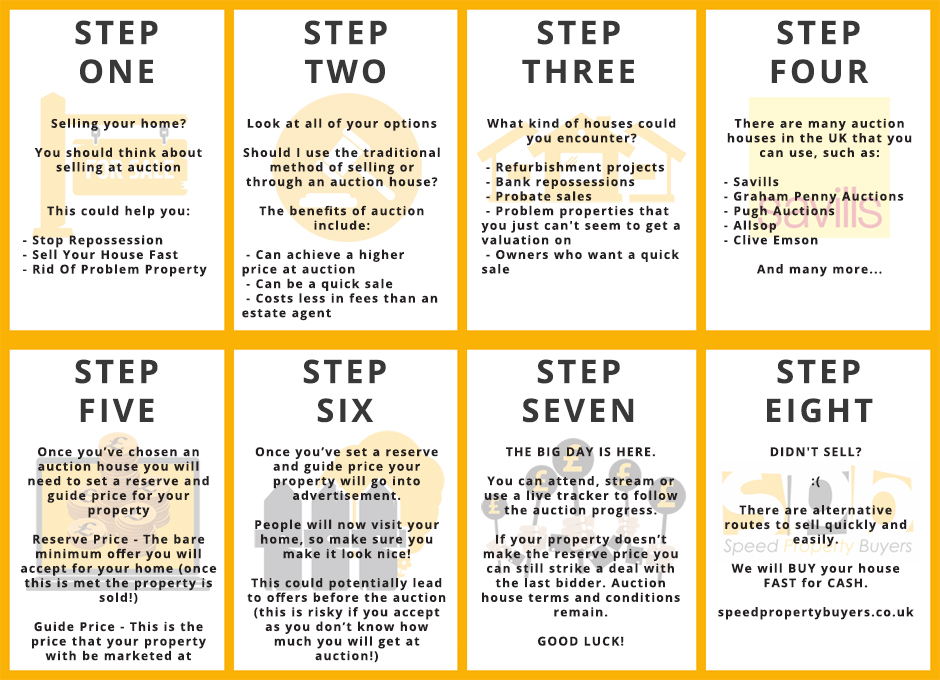 Marketing your property for auction varies for different companies, but is generally included in the fee, make sure you find out before committing.
Advertisement for your property normally takes place across catalogues, online, local papers (sometimes national depending on reputation and size) and estate agencies.
Larger auction house companies do tend to be more beneficial for customers as they have a larger database of buyers. Obviously this means your listing will be seen by more people, and of course potentially increase your homes sale price.
After you have chosen your desired auction house, you should get into contact with your solicitor immediately to prepare the legal pack for your home.
This pack will contain contracts and any other special conditions.
Setting the Guide Price and Reserve Price
Setting the correct reserve price is absolutely critical, once the price has been matched at auction the property will be sold and there is no return!
It's important to know what figure you are willing to sell for, if you're not sure, try and obtain a free house valuation.
After agreeing on a reserve price, you will need to set a guide price. You will want to make this attractive to buyers but don't make it too much as you don't want to scare potential buyers away. You don't also want to set your homes valuation to low as you could make less money than you want at auction.
Auction is great for sellers because even if your home doesn't make the reserve price you can choose to accept the last bid price, and all auction terms and conditions still apply.
That is of course if the bidder is still willing to purchase.
Preparing Your Home for Auction and Offers Before Auction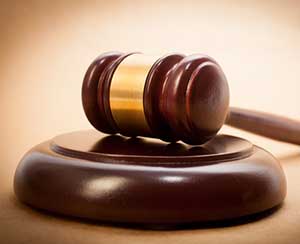 Once your home has been accepted into the auction process your home will go into the catalogue. Once this has happened you should be ready for viewing arrangements to be made, this is of course when interested parties come to view your property.
You will need to ensure your home looks the best it can, as you would with any method of selling your home.
Potential buyers can make you an offer before auction and this is fine. It is up to you, the vendor, if you accept the offer or not.
Selling before auction is often seen as risky, as you will not know how much you will get in the auction room. It could be less or it could be a lot more!
The Property Auction Day
So, it's finally here, the big day. You don't have to attend the auction if you don't want to, although we suggest attending as it's a good experience.
If you don't fancy going to the auction day, some auction houses have online features where you can track bids or stream the event live.
We hope your property will sell at auction, but if not don't fret. If your home fails to meet the reserve price, don't worry too much as you are allowed to negotiate a deal with the highest bidder (if you would like) at a price lower than the reserve.
All the auction houses terms and conditions still remain the same and the deal can move forward.
Preparing Your Home for Auction and Offers Before Auction
A professional body established in the UK by Royal Charter, providing impartial, authoritative advice.
The National Association of Valuers and Auctioneers is a professional self regulating body solely concerned with valuers and auctioneers.
The official online resource for the UK Ombudsman Scheme for Estate Agents. Includes a searchable database of member Estate Agents.
The Competition and Markets Authority promote competition for the benefit of consumers, both within and outside the UK.