Intro
Dry rot is one of the biggest dangers to the structural integrity of the building in the UK. It is due to the British climate and its high humidity. Dry rot is a fungus that, contrary to the name, thrives in moist, dark and warm places. Wet timber is the perfect place for dry rot spores to spread by producing hyphae.
Dry rot lifecycle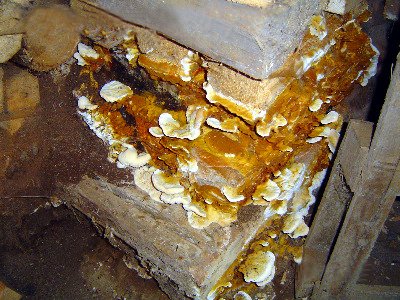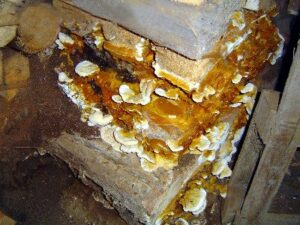 Dry rot is a living microorganism with a rather fascinating lifecycle. Dry rot follows a four staged growing process.
It starts with dry rot spores that land on timber, in good conditions they start producing hyphae – a spiderweb-like substance that spreads very quickly in search of food and a place to mature. That's the second stage, usually a good time to notice an act on fast. The third stage is a mycelium phase, where hyphae unite in one living organism. Looks like a silky white slightly furry growth.
When left untreated thrives and grows into a fruiting body with is its life-preserving phase. It is easy to spot as it looks like an orange spongy mushroom-like organism. Some compare it to a pancake. When the fruiting body it's ready it produces spores and the dry rot life cycle starts again.