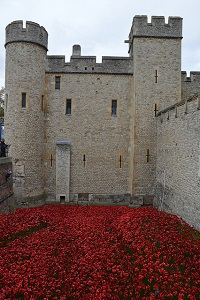 Following the poignant ceramic poppy display at the Tower of London to commemorate the outbreak of The Great War one hundred years on, the 2014 display drew many crowds to the tower to see in excess of 800,000 poppies, one for each allied fatality.
The First World War lasted for 4 long years between 1914 and 1918 and so these coming few years will see the centenary of many more dreadful world events.
The numbers of casualties and fatalities cannot truly be comprehended by our modern thinking when these days, thankfully death and destruction are so far from our day to day experiences that even relatively small numbers are widely reported.
But it is just 100 years since incomprehensible numbers of casualties were happening almost daily and a walk around any city, town, village or tiny hamlet will illustrate this, with names inscribed on memorials across the land.
The 2014 commemorations saw perhaps the largest amount of public awareness for some time, this was by no means the bloodiest year.
2015 sees the 100th anniversary of amongst other things the sinking of the Lusitania where nearly 1200 people perished and the second battle of Ypres which cost something in the region of 300,000 lives for 5 mile allied advance.
This battle is made all the worse by the fact that it was the first time that gas was used in the conflict.
What is often forgotten is the First World War did not just happen across the channel in France and Belgium. Some 58,000 allied soldiers were killed on the sunny beaches of Turkey during this disastrous Gallipoli campaign.
The appetite for war continued as just 21 years after The Great War there was the outbreak of World War Two, this year being the 70th year anniversary of the end of that conflict in 1945.
Whilst most of the combatants of the Second World War are now no longer with us, and there are none from the First, the Royal British Legion still do incredible work with survivors of more recent conflicts which is why the simple act of buying and wearing a poppy helps them carry out their incredible work and gives a nod to history that those who perished have not been forgotten.